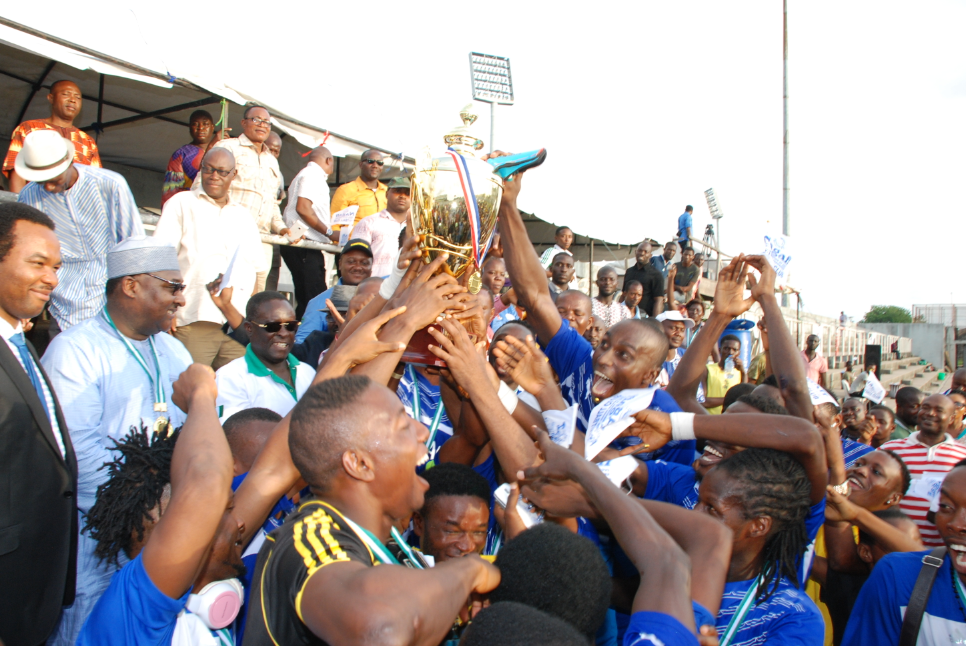 The football team of the National Association of Government Approved Freight Forwarders (NAGAFF) has won this year's edition of the annual Ships & Ports Maritime Cup competition, lifting the Pa John Olayiwola Okunloye trophy.
NAGAFF won the trophy today after defeating Micura Stevedoring Services 2-1 in the final match played at the National Stadium, Surulere, Lagos.
NAGAFF took the lead five minutes into the first half through Jide Olufeinti and scored the second goal in the 32nd minute through Chukwudi Membis.
Micura's goal was scored in the second half via penalty kick taken by its goalkeeper.
Speaking shortly before presenting medals and trophy the winner, Executive Secretary/CEO of Nigerian Shippers' Council, Barrister Hassan Bello, who watched the final match commended the organisers for the well organised competition. Bello also commended the players for exhibiting high level of play and conduct all throught he 12 days that the competition lasted.
"I am quite impressed by what I have seen here today. I assure you of our support," Bello stated.
President General of the Nigerian Football and Other Sports Supporters Club, Dr. Rafiu Ladipo, while commending the quality organisation of the competition, said the players played "good football."
"With what I have seen here today, there is no doubt that Nigeria is a football nation. We have talents. The players here can hold up to their own anywhere. I must commend Ships & Ports for this competition. I want to assure them that I will participate fully in it next year in whatever role they deem fit. I believe strongly in this competition and I believe the organisers deserve all the support they can get from us," Ladipo stated.
A total of 44 goals were scored in 16 matches played in the competition with 12 maritime organisations and agencies participating.
The Fair Play award, sponsored by APM Terminals Apapa, was won by Sifax Group which also won the bronze medal of the competition while Emmanuel Slappy Micura Stevedoring Service won the highest goal scorer award with six goals.
The NAGAFF team, which socred a total of 12 goals in the competition, did not concede any goal until the final match.
The team which started its Maritime Cup campaign in Group D had defeated APM Terminals Apapa 3-0 and Mickey Excellency 2-0 to top the group. It defeated Apapa Bulk Terminal Limited (ABTL) 3-0 in the quarter final match and Sifax Group 2-0 in the semi-final.
The Founder of NAGAFF, Dr. Boniface Aniebonam, who also praised the level of organisation of the competition, said his team worked hard to earn the victory. He however regretted that his team did not have the opportunity to confront former champion, Nigeria Customs Service (NCS) during the competition.
"We came ready for Customs but unfortunately they crashed out in the quarter final," Aniebonam stated.
The Late Pa John Olayiwola Okunloye trophy was donated by Micura Stevedoring Services.