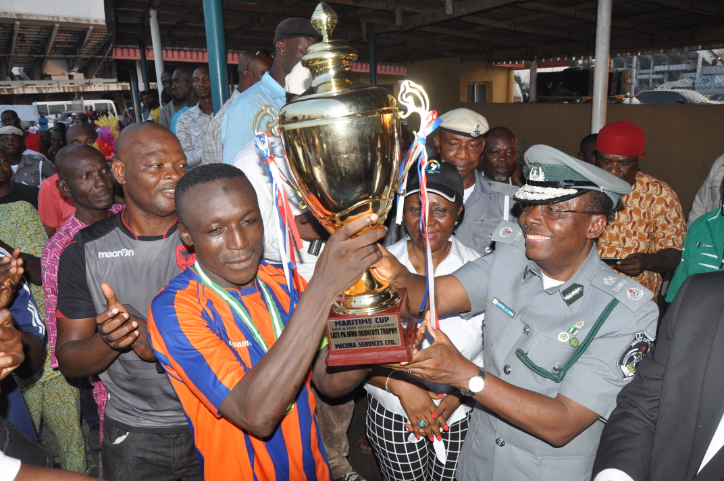 As the 2017 Maritime Cup Competition begins on Monday, the hard fighting Nigerian Navy Football Team will be trading tackles with the defending champions, the Nigeria Customs Service (NCS), in what promises to be a robust encounter in the opening match of the 9th edition of the Ships & Ports Annual Maritime Cup competition.
The match will be played at the Astro Turf, National Stadium Surulere Lagos on Monday. Two other matches scheduled for the same day are those between the Nigerian Ports Authority (NPA) and Tin Can Island Container Terminal (TICT) as well as between Josephdam Port Services and African Circle Company, which will both be played at NPA Sports Ground, Surulere, Lagos.
Feelers show that expectations are high among te competing teams as each is well prepared to win the coveted trophy.
Coordinator the Annual Maritime Cup Competition, Mrs. Eucharia Udoaka, said the event was put together to promote competitive sporting activities in the maritime industry and also to serve as a social engagement platform for the industry's operators, regulators and consumers of service.
"The Maritime Cup was conceived as a forum where all stakeholders in the maritime sector could converge and socialise in an informal setting through the platform of sports," she said, adding "as football matches are played between employee-teams of maritime organisations, business deals are discussed, finalised and solutions to problems in the sector sought out and proffered.
"And, through the years the competition has served that purpose in no small measure. Now maritime firms see the benefits of featuring their teams in this competition, not just for the prestige of winning laurels but also for the sense of friendly challenge and the fun it creates between employees in the sector," she said.
Past winners of the Maritime Cup include the Nigerian Navy (2009), Micura Stevedoring Services (2010), Nigeria Customs Servie (211, 2012, 2013 and 2016), National Association of Government Approved Freight Forwarders (2014) and the Association of Nigerian Licensed Customs Agents (2015).
This year's competition, which will run for 12 days, from May 15th to 26th, is supported by the Nigerian Ports Authority (NPA), Tin Can Island Container Terminal (TICT), Morbod Group and African Circle Pollution Management Services.