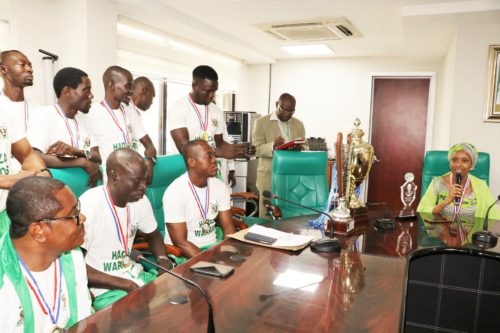 The Managing Director of the Nigerian Ports Authority (NPA), Hadiza Bala-Usman h,as warned organizations in the maritime industry that the NPA football team fondly called "Hadiza Warriors" would do everything possible to retain the trophy in 2019. 

She said though NIMASA, which NPA defeated in the final match of the Maritime Cup this year is strong this year, "NPA would be stronger in the 2019 games".
While receiving the Maritime Cup trophy, which was delivered to her by the General Manager Human Resources and Chairman Nigerian Ports Sports Association (NIPOSA), Alhaji Yahaya Bukar at her office in Lagos on Thursday, the NPA MD expressed joy and happiness that the victory is important and historic especially since it was the 10th year anniversary of the competition organised annuall by Ships & Ports Communication. 
Usman said the highpoint of the victory was the award of the tournament's Fair Play Award to the Hadiza Warriors for being the team with the fewest number of bookings and for abiding by the rules of the competition.
Bala-Usman charged NPA workers to imbibe the spirit of fair play and integrity as it would ultimately help them to grow in confidence to do greater exploit in their endeavors. 
Earlier, the General Manager Human Resources and Chairman of Nigeria Ports Sports Association (NIPOSA) Alhaji Yahaya Bukar, who was visibly excited, expressed deep appreciation to the NPA management for cooperation especially on sporting matters, adding that winning the Maritime Cup and NPA's outstanding performance at the last FEPSGA game were all reward of the consistent support which the current management had given to sports.
Bukar who commended the management for resuscitating NIPOSA games after more than 15 years in the limbo, also paid glowing tribute to members of Central NIPOSA and assured that the future of sports is bright in NPA with "the kind of support from the present management".
The chairman of chairmen of sports in NPA and Principal Manager Monitoring and Regulations, Charles Okaga, who also doubles as the Team Manager of the Hadiza Warriors, said Bala-Usman was on hand to motivate the team emphasizing that it was only NPA that did not have any team protesting against its players during the two weeks long tournament. 
Okaga also praised the management for paying premium to issues affecting the footballers especially with their allowances and kits.
The Executive Directors of Marine and Operations, Dr. Sekonte Davies and his Finance and Administration counterpart, Mohammed Bello-Koko both congratulated the NPA team and acknowledged the uncommon leadership traits of the Managing Director, which they said has rubbed off on sports men and women in the Authority.