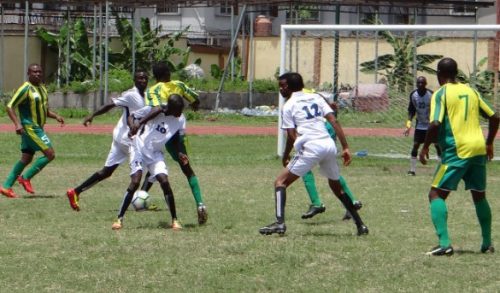 Three leading port terminal operators namely ENL Consortium, Apapa Bulk Terminal Limited (ABTL) and Josephdam Port Services, as well as defending champions, Nigerian Ports Authority (NPA) have emerged as the semi-finalists of the 2019 Maritime Cup Competition.
The annual competition, the 11th in the series, is organised by Ships & Ports.
NPA and ENL Consortium emerged from Group A while ABTL and Josephdam emerged from Group B.
NPA booked their semi-final ticket after winning two of their group matches and drawing the third. They had defeated Higher Pacific International (HPI) 4-0 in their opening match on Tuesday last week, beaten Dangote Ports Operation 2-0 on Friday and played a 1-1 draw with ENL yesterday.
ENL also won two of their group matches and drew the third. They defeated Dangote Ports Operation 5-0 last Wednesday, beat HPI 2-1 on Friday and played 1-1 with NPA yesterday.
Both NPA and ENL have 7 points and goal difference of +6 each.
In Group B, ABTL defeated NIMASA 3-0 and Tin Can Island Container Terminal 3-2 to garner six points, while Josephdam also defeated TICT 2-0 and NIMASA 3-0 to garner six points. Both teams have therefore qualified for the semi-final stage of the competition but a decisive encounter scheduled at 9am today between the two teams will decide the winner and runner up of the group.