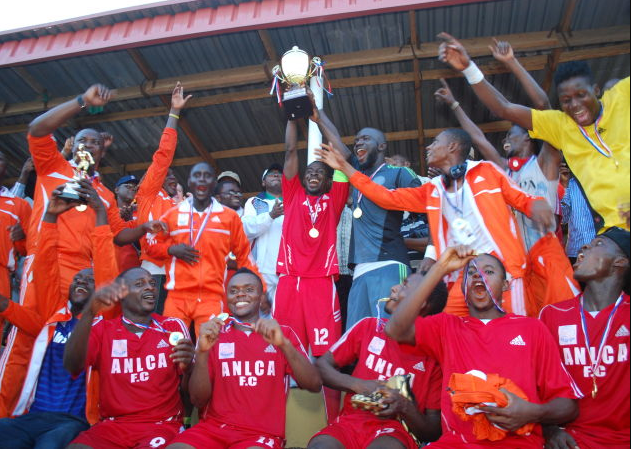 First timers, Association of Nigerian Licensed Customs Agents (ANLCA) on Friday made a bold statement at this year's edition of the Maritime Cup competition by carting away the coveted Pa Olayiwola Okunloye trophy.
"We are coming into the competition for the first time but we are here to win," National President of the association, Prince Olayiwola Shittu who led the team's supporters' club had said at the opening ceremony of the competition on 2nd May.
True to his wors, ANLCA won the coveted trophy as they triumphed over three times champions, Nigeria Customs Service 5-3 via penalty kicks.
The NIS Pitch of National Stadium, Surulere, Lagos was filled to capacity as the clearing agents stood strong against the equally formidable Customs steam ending the score at 0-0 at the end of 90 minutes of play.
The crowd went into a frenzy as Customs lost two spot kicks during the penalty shoot out earning the clearing agents , who converted all their kicks into goals, an unequivocal victory.
It was the second time ANLCA would win their licensors. They had earlier defeated Customs 3-0 at regular time in the second group match.
The victorious Team ANLCA, as their fans fondly called them, did not lose any match all through the two weeks long competition.
They scored a total of 11 goals in five matches and conceded five.
Team ANLCA topped Group A with seven points after defeating Customs 3-0 and defending champions National Association of Government Approved Freight Forwarders (NAGAFF) 2-1 and played a barren draw with former champion, Micura Stevedoring Services.
In the semi- Final match, ANLCA defeated Micura 1-0 to set up a rematch with Customs in the final on Friday.
On its part,  Customs had in the group stage defeated NAGAFF 1-0, lost to ANLCA 0-3 and defeated Sifax Group 4-0 to qualify for the semi-final in which they defeated Micura Stevedoring Services 1-0 to set up a rematch with ANLCA.
Meanwhile, in the third place match played earlier, Micura Stevedoring Services defeated Nigerian Ports Authority (NPA) through penalty shoot out to win the bronze medal of the competition.
A total of 64 goals were scored in 16 matches played in the competition. Also, a total of 57 yellow cards were issued with 3 red cards.
ANLCA had the highest number of yellow cards – 11 in all – while NAGAFF recorded the highest number of red cards – two in all.
Sifax Group, which won the Fendercare Marine Fair Play Award, had the lowest number of cautions with three yellow cards.
Nnamdi Daniel of NPA 3 goals to emerged the highest goal scorer of the competition.
The Sifax Group's Most Valuable Player Award was won by Sadiq Musa of ANLCA while Olisa Agbakoba's Team With Highest Goal Award was won by 11 which recorded 11 goals.