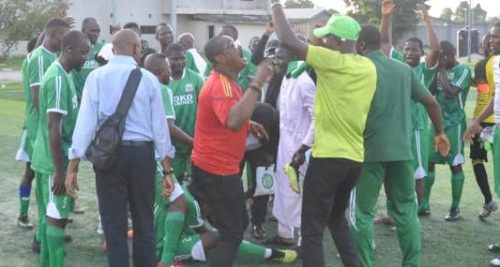 Defending champions ENL Consortium, the Nigerian Navy, Josepdam Port Services and Nigerian Ports Authority (NPA) all won their third group matches on Monday to qualify for the semi-final stage of the ongoing 2022 Maritime Cup competition.
In the last group matches of the tournament played in Lagos yesterday, ENL Consortium defeated five times champions Nigeria Customs Service 2-1 to book a spot in the last four. ENL had last Tuesday won its opening match against Higher Pacific International (HPI) 4-1 but lost to the Nigerian Navy 0-2. With its victory against Customs on Monday, ENL came second in Group B with six points and a goal difference of +2.
Nigerian Navy won all its three group matches against Customs (1-0), ENL (2-0) and HPI (2-0) to sit atop Group B with nine points. The Navy's Admiralty FC has five goals in its favour and has yet to concede a goal in the tournament.
In Group A, NPA's Koko Marines defeated hard-fighting National Association of Government Approved Freight Forwarders (NAGAFF) 4-2 to book a semi-final ticket. NPA finished as the leader of Group A with six points and a goal difference of +5 from three matches. It won its first match against Dynasty Ocean Shipping 2-0 but lost its second match 0-1 to Josepdam Port Services (JPS).
JPS secured its place in the semi-final after defeating Dynasty 2-1 in a tension-soaked match on Monday. It lost its first group match 0-2 last Wednesday to NAGAFF but defeated NPA's Koko Marines 1-0 on Friday.
The Koko Marines top Group A with six points and a goal difference of +3 ahead of JPS which also has six points but a goal difference of zero.
The two semi-final matches will be played tomorrow. The first match is scheduled for 1pm between Group A leader, NPA and Group B runner-up ENL Consortium. NPA won the trophy in 2018 while ENL won it in 2019.
The second semi-final match will be played at 3pm between Group B leader, Nigerian Navy and Group A runner-up Josepdam Port Services. Nigerian Navy won the maiden edition of the Maritime Cup in 2009 while Josepdam was the runner-up of the 11th Maritime Cup in 2019.
Both matches will be played at the NPA Sports Ground, Bode Thomas, Surulere, Lagos.
Click here to see the full match fixtures and how the teams finished in their groups.